Detroit's Family-Owned and Operated Knife Sharpening and Restaurant Product Supplier
---
Get to know our family's history with Detroit Cutlery!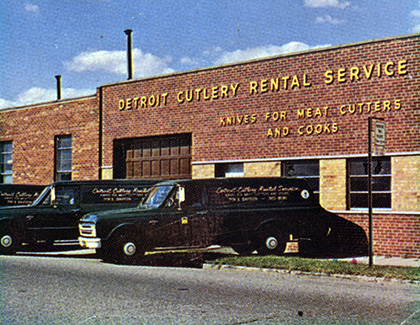 Detroit Cutlery's owner, Tom Sadocha, has been working in the knife sharpening restaurant distribution industry since his early years of high school, learning the trade from his family. In November of 1999, he decided to purchase Detroit Cutlery, Inc., a knife sharpening company originally established in 1956. Tom is married to his wife Sandy, and has 5 children.
Each of the children has, at one point in time, worked for Detroit Cutlery, Inc. during summers off from high school or even college. Their oldest, Nicole, joined the company full-time after graduating from college. In 2013 their youngest son, Thomas, found passion for the company like his father and joined the company right out of high school. In 2013, Nicole, unfortunately, suffered from a ruptured AVM (Arteriovenous Malformation). With Tom and Sandy needing to be by Nicole's side, Thomas and the employees at Detroit Cutlery stepped up to make sure the company's daily operations proceeded as needed. This took a lot of stress and worry off of Tom and Sandy while they focused on Nicole's recovery. Since then, Detroit Cutlery has grown tremendously. Nowadays, Detroit Cutlery not only offers knife sharpening services but also provides a vast variety of disposable products to our customers. We have also doubled our routes, traveling everywhere from Midland, Lansing, Jackson, Monroe, and of course, Detroit. Throughout all of the growth and changes, one of the constants Detroit Cutlery strives to maintain is our focus on the customer. To this day, we strive to find our customers a quality product at a reasonable price. We listen to their needs and work with them to provide services and products that exceed their expectations.