Knife Sharpening Services for Restaurants, Markets, Hotels, Entertainment Venues, and More!
---
Go with the sharpest team in town when you choose us!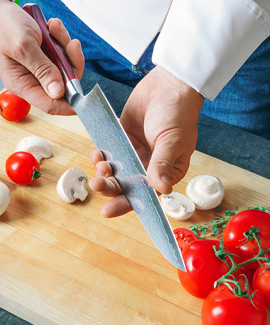 Whether you're a small town diner or a big-time dining establishment, you understand the importance of having sharp knives readily available. Detroit Cutlery has a vast variety of knives that we sharpen on a daily basis for all different types of establishments. We supply a set of knives and sharpen them depending on the customers' needs on a weekly or bi-weekly basis. A sharp set is always at your location while the other set is in our possession to be re-sharpened and ready for your next delivery.
Over time, Detroit Cutlery's knife sharpening services pay for themselves!
---
Steps for Success:
Call Detroit Cutlery Inc. and set up a new account.
First set is created and sharpened.
First set is then delivered to your location by one of our trusted route salesmen.
Another set is created, sharpened, and placed on a route for future deliveries.
Deliveries will occur on a predetermined basis. (Weekly, Bi-weekly)
Sit back relax and know your employees have the right tools for success
Benefits of a Sharpening Service:
Ability to maintain food appearance and quality.
Eliminates having to constantly buy new or replacement knives.
Eliminates utilizing time trying to sharpen knives in-house.
Eliminates the dangers and liability of sharpening knives in-house.
Eliminates Downtime
To request knife sharpening service from the professionals at Detroit Cutlery, contact us today!